NEW BOOK
How to 2X Business Revenue and Profits and Value – Dale in the News!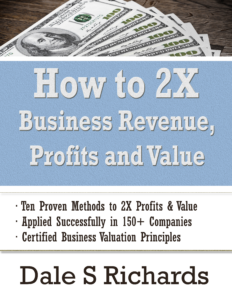 I am very excited to announce my new book  How to 2X Business Revenue, and Profits and Value. This Book covers my proven methods and processes to increase business revenue, profits and value by 2X to 3X in a short time. I have successfully applied these proprietary financial, operational and strategic improvement techniques detailed in this book in over 150 companies over the past 30 years to yield 200% to 300% increases in business performance.
My Book provides tips that can be applied to any business in any industry to accomplish these major performance improvements.
KNOWLEDGE IS POWER for any owner or officer of a business. The purpose of this book is to provide its readers with business knowledge, which will lead to more effective decisions, results, and POWER.
"A way I can provide resources for my clients is to write a book"
____________________________________
VIDEO QUESTION AND ANSWER
There has been a lot going on in the world lately, and with the country coming back on line, businesses are seeking information to help them with their revenue, profits and value.
People want to know what to do, and ask, "Dale what is my company worth?" "What can I do to drive profits?" I met recently with Cathy Fitzhenry of The Heart of the matter interviews to touch on some of the many questions I've been getting during this pandemic. I invite you to listen in to the video below. Hopefully it will get you started on asking some of your own questions. I'm here to answer them.
KNOWLEDGE IS POWER