The objective of this blog is to point out key activities and methods that will provide the company with quality employees, decreased turnover, increased performance and productivity.
I. Hiring Quality People that will remain with the company
The person's performance quality and the retention are directly related to their supervisor's coaching skills and their individual character.
How to find the right people? For each job function, write down a job description and characteristics that are needed for that job. That will result in a match between job requirement and employee.
Traditionally, newspapers ads are the easy cop-out solution to finding employees. More appropriate would be to use a referral network of friends and associates to attract quality employees. FACT: between 60%-80% of all jobs are filled through networking. The job post never reach the classified ads. That tells us that quality people are found through a network and not necessarily from a classified ad.
How do I find the network? Network opportunities exist in social media outlets, service groups, local clubs and agencies, or at recreational areas where the type of employee might reside.
For example, if you are looking for someone with skills to climb telephone poles or buildings that is not afraid of heights, you might contact the local mountain climbing sports centers and put an ad in the paper there.
II. How to Reduce Turnover
FACT: If you lose an "A" performer it costs to up THREE years of salary to replace them.Spend more time coaching proactively than criticizing
Survey employees for ideas.
Make each employee feel important
Use Active Listening techniques to help employee feel understood
Performa exit interviews to find ways to improve the company
Focus on one or two things at a time to improve on and make sure they get implemented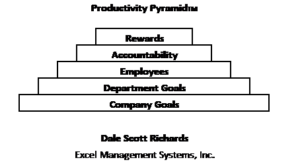 III. Productivity Enhancement – Productivity PyramidTM
The previous blog gave very specific details on the Productivity PyramidTM. The graphical representation is shown to the right. A summary of the principle includes:
A. Establish with employees 3-6 company goals with one a personal goal.
B. Coach each one monthly: Ask questions, instill innovation and thinking out of the box
C. Use sandwich principal of method to accomplish the objective
Positive comment – suggestion – another positive comment
In order for people to have high self-esteem, they require 2-4 positive affirmations to every negative one.
Our society operates on negative comments. "I only hear from my boss when I do something wrong."
D. Between 20-25% of the population has low self-esteem.
E. Hold employee accountable for performance. But help/ encourage rather than criticize.
F. Provide individual – team and company excellent performance rewards.
Typical Critics:
Talk and suggest
Impatient with questions
Expect results without assistance
Constantly look over your shoulder
Only comment when things go wrong
Complain
Good Coaches:
Listen to understand
Help and willingly train
Gathers resources to assist
Allows freedom to Excel
Has positive quality checks along the way
Compliments good performance
Common Performance Demotivators:
No or small Salary increase
Poor Health insurance benefits
Unfair or poor vacation/sick leave
Inconsistent administration of benefits
Lack of interaction with management
Criticism without coaching
Common Performance Motivators:
Responsibility with opportunities
Recognition among peers
Verbal and written Compliments
Properly designed Incentive Programs
Open communication with Management
Be included in decision making