Performance Dashboard elements I present to CEOs
A. Cash Flow Elements Graphed (two years monthly history and one-year projection)
The elements include: Total Cash Flow, A/R, A/P, Inventory, Investment, other cash change.
The normal tabular cash flow is very hard to understand and manage but if you will graph the elements you can look at the graph and determine the cash performance in a few seconds.
B. Contribution Margin vs. Gross Profit. The contribution margin takes into account all the variable costs. Normally:
1.A/R, A/P, Cash Flow, Contrib. Margin (CM), Productivity $Rev/FTE, $CM/FTE, NI/FTE
Financial Reporting Dashboard
Some elements that could be included in a graphical dashboard are shown below. Graphs are much easier to review and assess the company performance than a series of data tables. The author suggests the following graphical metrics:
A/R
 A/P
Inventory
Capital
Overall Cash Flow
Contribution Margin (CM)
Break-even Dollars and Units
Productivity Index: (Rev. $/FTE & CM$/FTE)
Revenue
Net Income
-Average Sales Price/Unit
Financial Performance Metrics Graphs – Examples
Revenue Actual with Forecast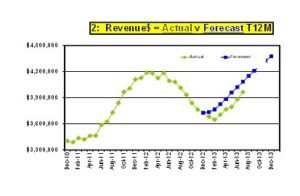 Price – $ per Unit Sold
Productivity Indexes:
Revenue per Full-Time Employee (Rev/FTE)
Margin per Full-Time Employee (GM/FTE)
_______________________________
Performance Dashboard is key to enhancing performance from Dale Richards Valuation Presentation.
Brian Slack, Atlanta, Georgia found out a Performance Dashboard is a key to enhance performance because in less than five minutes a CEO can tell what is going on in his/her business from Dale Richards Valuation Presentation
________________________________