Rifle vs. Shotgun MarketingTM part of Business Valuation  
This concept is the Rifle vs. Shotgun Marketing that combines industry segment growth rates and gross margin for each segment to help determine the highest value segments. This leads to a focused marketing/sales strategy can yield more high-value customers.
Example
What if the industry is growing at 20% and your projections are at 20% growth?
You can obtain that growth from the industry growth rather than taking it from competitors. This is a more probable scenario and would have a higher value component.
Valuation – Performance Metric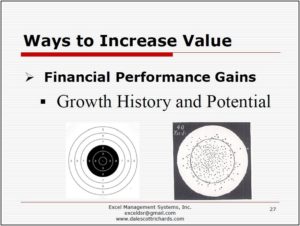 It is recommended that a business valuation be done every two years. With my nine methods and calculations, it can be used as a metric for management performance.
Are your the net assets improving?
Is your cash flow better?
What impact does that have on the market value method?
If the net cash flow is increasing, the statistically projected method will show a rise. I discuss these nine valuation concepts in my book and during my presentations.
The rifle vs. Shotgun Marketing was of particular interest to Jane Owen the CEO of Vistage Michigan.
Jane praised Dale's presentation and its interaction with the members. Attendees learned key business concepts from Dale Richards' presentation on Business Valuation Principles – How to Increase Your Business Value, Financially, Operational and Strategically.
______________________________________________
ABOUT DALE S. RICHARDS:
Preview Dales presentations: Watch Dale In Action Dale S. Richards specializes in management, marketing, operation optimization & business valuation consulting and is a 25+ year turnaround expert. He has implemented success concepts into results in 150+ companies. Dale is a Certified Valuation Analyst (CVA) with NACVA, a Vistage International CEO-Board Chair in Utah and a World and Vistage International Speaker. Visit www.successbiznow.com to learn more about Dale and business valuation services.