There is an old saying, "creating positive change can be filled with both learnable, and teachable moments" Learnable moments are filled with inspiration and motivation to accomplish a task or help out with a special project. It doesn't have to be a big project either – it just has to be something that you feel passionate about .
Those passions become teachable moments when we help guide others in using those same skills, to help one another or themselves.
"To say that on a daily basis you can make a difference, well, you can. One act of kindness a day can do it." » Betty Williams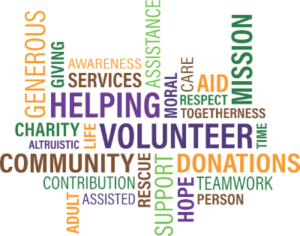 Working with humanitarian projects can be a very rewarding venture. When you see your hard work, or funding, being used for the benefit of your fellow mankind – it's heart warming.
While many may already have their own, here are a few interesting humanitarian organizations for consideration:
Helping in your community
There are also a number of ways that one can serve within their local community. Your service and funding support, no matter what size – is always needed.
Those less fortunate need help with basic needs and services.
Many communities have literacy programs; English as a Second language, to help overcome barriers leading toward independent living.
Volunteer at your local homeless shelter, or health clinic.
Help with school functions, become a tutor or mentor for youth.
Support your local food bank.
Helping with animals at your local human society.
You often have many organizations within your community that seek out the help of volunteers to work with fundraising and public awareness.
Reaching out when it is within your means to do so, provides the donor, "YOU" with a sense of a greater purpose. It provides the "RECEIVER" with hope.
Be a voice!
More.
"To ease another's heartache is to forget one's own." – Abraham Lincoln