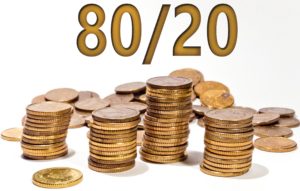 ---
Performance Improvement:
Customer 80-20 Gold Program ® 
How you expand revenue with existing customers. Customer 80-20 techniques help to raise revenue 2X-4X
Proactively finding out what customer's needs are instead of waiting for them to call
Customer 80-20 Gold Program ®
80-20: You have a customer base that is an absolute gold mine. If you wait for them to call in, you are losing probably double the revenue that you could have.
Competition Tracking- Proactive
Competitive Tracking: You can't stay ahead of your competitors if you don't know what you are doing.
Ways to Increase Value
 TOP TEN WAYS:
Productivity Pyramid TM Goals–Coaching-Accountability–Rewards
80/20 – Customer Gold Program TM
Performance Dashboards: A/R, A/P, Cash Flow, Contrib. Margin (CM), Productivity $Rev/FTE, $CM/FTE, NI/FTE
Why do Customers Buy – Build Brand –
Rifle vs. Shotgun Marketing TM Approach
Systems – Processes
Reoccurring or Recurring Revenue
Know your Competition – Market and Value Advantage
Optimize Product Pricing/Profits
Remove Product Dead Wood –Increase Margins & Profits