Valuation & Financial Services
This section has three valuable services: (Register to Receive a FREE Sample Report)
Business Operations Improvement  
Financial Performance 
Turnaround Management 
Business Valuations are needed for many business situations and include:

Employee Stock Option Plans – where IRS rules can require annual market valuation data
Merger/Acquisitions
Partial Business Buyout
Financing or Investment
Estate & Gift Taxes
Purchase Allocation
Fairness Opinion
Litigation Avoidance
Life Insurance
Shareholder Agreements
Tax Considerations
Buyer/Seller Agreement
Certified Business Valuation Services:   Dale Richards, President, Excel Management Systems, Inc.,  is a Certified Valuation Analyst (CVA) business valuator certified through the National Association of Certified Valuation Analysts (NACVA).  He also serves on the Education Quality Assurance Board (EQAB) of NACVA and has been completing valuation analysis work for 29 years.
Mr. Richards' costs are typically 20% – 50% lower than regional and national competitors yet the report quality
exceeds the competitors with details of HOW the calculations are made.  Contact us now for quote today.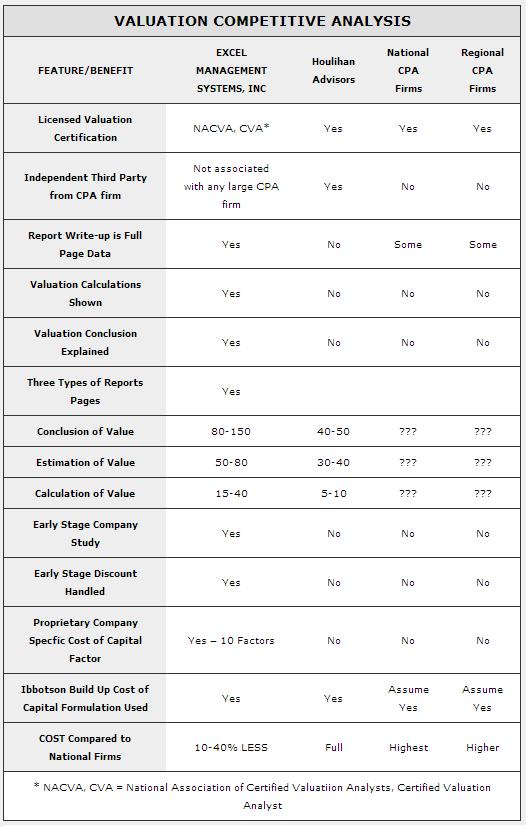 The site will guide you to and through the services you may need for your business valuation. Other Financial Services are available and include:
Bookkeeping
Accounting
Tax reporting
Auditing
Financial Reviews
Financial Opinions
As you search the site and have questions, please hit the Contact Us links and submit your question and our team of experts will get back to you with the answers.
Hear what our clients have to say