Dale S. Richards In the News
Dale S. Richards is the CEO of Excel Management Systems, Inc., a 25+ year Utah-based business valuation and optimization firm. Mr. Richards is a National Association of Certified Valuation Analysts (NACVA) Certified Valuation Analyst (CVA) Professional. He also serves on the Quality Assurance Board of NACVA. Dale has turned around 150+ western US companies. His programs show how to increase 2X-3X business revenue, profits and value. Mr. Richards has 25+ years of executive management experience as CEO, President, CFO, COO, CMO and Board of Director in the aerospace, utility, software, manufacturing and biomedical industries. He serves on the Board of Directors of four-for-profit and one non-profit companies. Dale graduated the top student in his MBA class, has a Chemical Engineering BS degree. Dale is a Vistage Chair of a Utah CE Group and a Vistage International Speaker.
Watch for more of Dale in the news.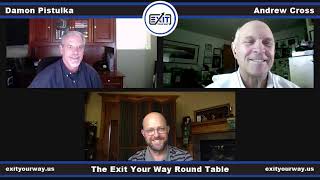 Business Valuation & COVID - HTH Does this work? Round Table Discussion
Get the latest information from the CDC about COVID-19.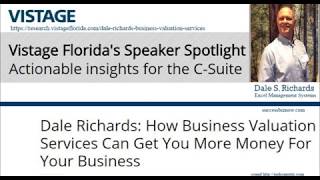 Vistage Florida's Speaker Spotlight - Dale S Richards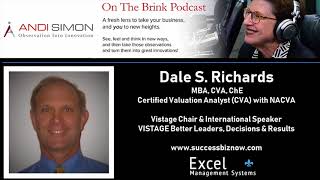 ON THE BRINK PODCAST | Dale Richards—Ready to Increase Your Business Revenue, Profits and Value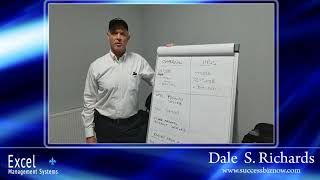 Dale Richards helped create an expansion business plan for Marian and Gabriel with Framinor.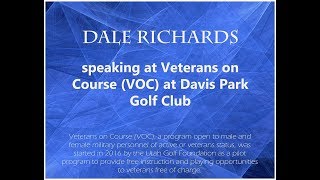 Dale Richards speaking at Veterans on Course (VOC) at Davis Park Golf Club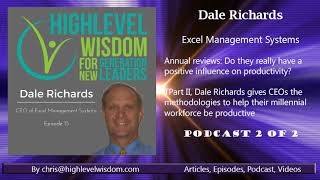 Dale in the News with Chris Williams of High-Level Wisdom -Podcast 2 of 2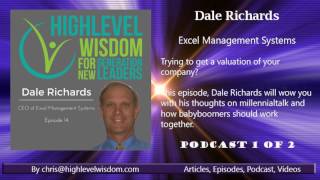 Dale in the News with Chris Williams of High-Level Wisdom -Podcast 1 of 2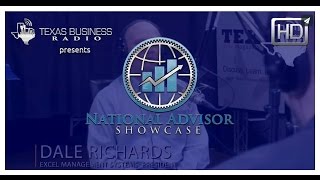 National Advising Show Case | Texas Business Radio Presents
Dale Richards BOOK: Valuation Principles - How to Increase Revenue, Profits and Value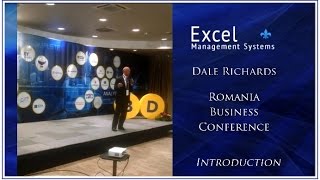 Dale was Key Note speaker in Romania Business Conference with 50 speakers
Dale Richards Of Excel Management Systems: Outstanding Tips and Hints On How To Search
Business Valuation & COVID - HTH Does this work? Round Table Discussion

Dale met online with Exit Your Way's Round Table Discussion to talk about Business Valuation & COVID - HTH Does this work?

Get the latest information from the CDC about COVID-19.

ave you wondered if Covid-19 impacted the value of your business? Listen in to Fitz and Dale discuss business evaluations and what to do during the pandemic.

Vistage Florida's Speaker Spotlight - Dale S Richards

Vistage Florida's Speaker Spotlight Actionable insights for the C-Suite. Dale Richards: How Business Valuation Services Can Get You More Money For Your Business https://research.vistageflorida.com/dale-richards-business-valuation-services Determine Actual Value of Companies Contact with Firms Looking To Buy Other Companies

ON THE BRINK PODCAST | Dale Richards—Ready to Increase Your Business Revenue, Profits and Value

In this highly informative podcast, Dale shares with us how he helps companies really "soar," something he has done over and over again for his own and his clients' businesses. Founder of 35 hi-tech companies (for which he helped raise $500 million in capital) and master of 20+ technology license deals, Dale explains the secrets to his success so you can soar, too. Listen in!

Dale Richards helped create an expansion business plan for Marian and Gabriel with Framinor.

Framinor is the premier odor control company in Romania and five other eastern European countries. Marian and Gabriel own this company with plans to expand to 27 countries. Dale Richards helped them create an expansion business plan.

Dale Richards speaking at Veterans on Course (VOC) at Davis Park Golf Club

About Veterans on Course (VOC) https://www.classy.org/sandy/events/v... How to Donate to Veterans on Course (VOC) https://www.utahgolffoundation.org/ve... Veterans on Course (VOC), a program open to male and female military personnel of active or veterans status, was started in 2016 by the Utah Golf Foundation as a pilot program to provide free instruction and playing opportunities to veterans free of charge. Each event consists of lessons from PGA Professionals, a nine-hole scramble tournament and a social gathering with hors-d'oeuvres and a guest speaker.

Dale in the News with Chris Williams of High-Level Wisdom -Podcast 2 of 2

Dale in The News with Chris Williams of High-Level Wisdom. Dale was live today. Podcast 1 or 2 with Dale Richards https://www.highlevelwisdom.com/ep15-dale-richards-ceo-excel-management-systems-part-

Dale in the News with Chris Williams of High-Level Wisdom -Podcast 1 of 2

Dale in The News with Chris Williams of High-Level Wisdom. Dale was live today. Podcast 1 or 2 with Dale Richards www.highlevelwisdom.com/ep14-dale-richards-ceo-excel-management-systems/

National Advising Show Case | Texas Business Radio Presents

Texas Business Radio," Matt Register interviewed Dale on the National Advising Show Case

Dale Richards BOOK: Valuation Principles - How to Increase Revenue, Profits and Value

By: Dale S. Richards | Business Valuation Principles | How to Increase Value | How to Increase Revenue, Profits and Value 200% | Made Easy With How to Increase Value Financially, Operationally, and Strategically

Dale was Key Note speaker in Romania Business Conference with 50 speakers

Dale was Key Note speaker in Romania Business Conference with 50 speakers. His topics were business valuation principles, How to achieve a high exit, where to obtain funding, How to increase business value 2X-4X with the productivity pyramid TM, Customer 80/20 Gold Program TM, Rifle vs. Shot Gun Marketing, How to Build your Brand for Free, Use of Social Media for Success, How to obtain reoccurring revenue, and financial metrics to over 500 attendees in Iasi, Romania.

Dale Richards Of Excel Management Systems: Outstanding Tips and Hints On How To Search

SuccessBizNow.com Dale Richards Of Excel Management Systems Bountiful Utah 801-299-9902: Discusses the area and gives Terrific Strategies On How To Obtain The Top Service In Bountiful Utah