On a typical business trip, as you are loading on the airplane have you ever gotten a glimpse of the passenger in the next isle who seems to have every "gate-to-gate" device known to mankind spread out before him? I wonder if there is fee for the extra weight from all these devices.
Technology made large populations possible; large populations now make technology indispensable. – Joseph Krutch (Writer)
The Digital Mesh
There is a better way, but it needs to be a safer way. The digital mesh combines many different informational sources and brings them together into a flexible design filled with devices, applications, and a variety of services. These applications and services can extend across numerous endpoint devices and can work with one another to produce an uninterrupted digital experience.
Businesses need to re-examine what information provides strategic value and identify how to access that digital information from different sources. While I am no expert, there is literature on the web that one can easily learn from. Some examples:
IT Reality
The connection between businesses and IT is shifting rapidly. Technology is no longer an indispensable cost center – it is progressively being regarded as a business enabler and a key component to competitiveness, thus its business value is measured by those factors. IT business strategies and goals need to be aligned together and optimized to provide the best return on business investment. Adaptive Security Architecture, it's a game changer for businesses.
Virtual Reality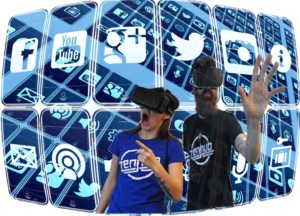 The company Oculus has been a major player in the virtual reality gaming world. But, virtual reality isn't just for gaming and entertainment. It is also making roads into education. In an article written by the Smithsonian Magazine, the author talks about students taking virtual reality field trips to museums and other great places of interest.
Businesses can also benefit from virtual reality. Imagine viewing designs and/or graphical presentations in virtual space. Members could all meet together in a virtual room and discuss a multitude of topics across the span of many mile, and different locations around the globe .
Wearables technology is also trending. Mashable's did a piece on wearable glasses. Not so nerdy looking any longer, so the creepiness aspect has gone away. A mini computer at the touch of one's glasses. Like it or not?
Smart Machines are just another technology that is changing the face of how we interact and do business. Robotics have been with us for some time, but it appears the field has entered a new dimension. Smart machines can be beneficial in many areas. For instance: medical, automotive, manufacturing, etc.
How businesses choose to use technology is diverse. But if you look at the history of computers and the internet, what was once considered a fad has now become a standard means of doing business. Technology is almost a requirement, down to the credit card machine on the counter to the interactive video conferencing system hanging on the wall.
You may not know it now, but the technology you will use tomorrow hasn't even been invented yet. But it's coming!
Technology is anything that wasn't around when you were born. – Alan Kay (Computer Scientist)
Dale S. Richards specializes in management, marketing, operation optimization & business valuation consulting and is a 25+ year turnaround expert. He has implemented success concepts into results in 150+ companies. Dale is a Certified Valuation Analyst (CVA) with NACVA, a Vistage International CEO Board Chair in Utah and a Vistage International approved Speaker. Visit www.successbiznow.com to learn more about Dale and business valuation services.