The Cash Flow Report – Revisited
By: Dale S. Richards
10/26/2016
This blog is a continuation of the series on How to increase your business value with financial concepts:
Today's blog will present the addition financial metrics different from the traditional bank financial ratios and metrics.
Monthly financial statements without a cash flow statement are not as effective.  The standard cash flow statement will show the increases and decreases in cash of key metrics but only on a monthly snapshot basis.  It is very difficult to determine where cash comes and goes in the company from the monthly cash flow statement.  It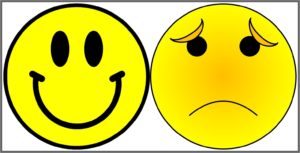 does not show trends or cycles.  In fact, the figure below represents how a typical executive feels about cash flow.
Cash Flow: If there is a negative cash flow, you feel sad and wonder where it went. If you have positive cash flow then you smile but a monthly view is not very effective.
If you graph cash flow and all of its elements, such as, A/P, A/R, Inventory, capital expense, bank accounts, etc. for the last two years, it becomes much easier to project 12 months into the future and see trends that may have happened in the cash flow area.

A graphical representation of cash flow is one of the most important tools for an executive and should be included on a situation dashboard.
A spreadsheet should also be used to translate the accounting cash flow statement into a rolling 12-month history and a 12-month future cash flow measurement tool.
Cash flow rolling historical and future projections can be a critically important tool for growth, seasonal or shrinking companies.
Many companies have died in their growth because they did not track cash flow or the needed cash flow resources.